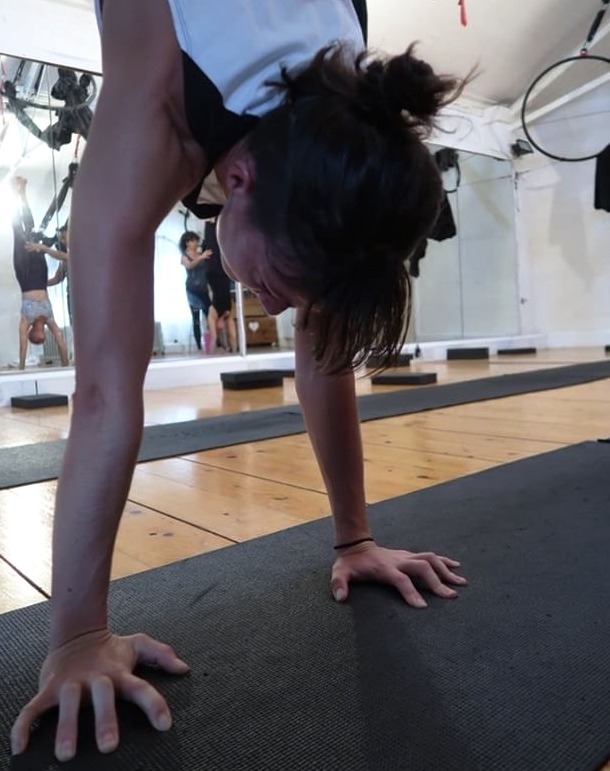 NAME: Elise Naomi Buddle
CLASS(ES) TAUGHT & A BRIEF EXPLANATION OF WHAT YOU TEACH:
Strengthening Inversion Flow, Yin Yoga, Calisthenics
I'm a strong believer that to build upon your understanding of how your own body moves with little injury and with greater progression, one needs to address the bodies range and capabilities from all angles. My own practice consists of a variety of mobility, strength and flexibility. In all honesty, its challenging to progress in any of these areas, in isolation, without the other two. I decided to comprise some of these elements within my classes to introduce beginners to a better awareness of what their body needs to maintain good healthy movement, void of injury. Intermediate and advanced practitioners also have the opportunity build upon their practice with these strengthening flows, longer holds and more dynamic movements within body weight training.
HOW LONG HAVE YOU BEEN TEACHING AND HOW DID YOU GET STARTED?:
I have been teaching for 7 years but practicing for 9 years. I had a very high energy job in a private school and I started yoga to find some balance in my life. I got hooked immediately, initially starting with bikram yoga, which is a great beginners class into movement with assisted flexibility through warmth in the muscles. I started teaching the kids in my school and loved it so much that I quit my job and have since forever been expanding my practice and developing my range of movement and understanding of movement.
WHAT DO YOU PARTICULARLY LOVE ABOUT THE FORM OF YOGA THAT YOU TEACH AND HOW HAS YOUR DISCIPINE BENEFITED YOU PERSONALLY?:
The practice I teach is varied these days across many disciplines and I encourage others to vary regardless of maybe favouring one thing over others, you can always come back to whatever that is as a base. What I love about it is it develops strength, mobility and flexibility throughout an average week, constantly assessing and honing each individuals strengths and weaknesses, trying to find better balance in their body and a greater awareness of how they move.
WHAT/WHO INSPIRES YOU?:
Movement of ALL types inspires me, it would be hard to choose one type. The strength with coordination of body weight trainers inspires me whilst merging that with the flexibility of well trained yogis. However, I aspire to understand each individuals way of moving, that's my motivation as we really all do move differently physically and, more importantly mentally – this affects our physical movement greatly.
WHAT CAN SOMEONE EXPECT FROM YOUR CLASS AND WHAT MIGHT THEY TAKE AWAY WITH THEM ?:
A better physical and mental awareness of ways of moving and confidence to move with control through focus on strength, mobility and flexibility.
WHAT DO YOU LIKE DOING WHEN YOU'RE NOT DOING YOGA?
Art! I'm an artist as well as running, rock climbing, strength work, cooking and travelling to meet like minded people.
WHAT'S YOUR FAVOURITE INSPIRING QUOTE?:
'Perfection is imperfection' (basically saying you are unique in everything that you are and that very closely links to accepting your form just as it is, your mind just as it is as perfectly aligned with you as an individual).
Elise teaches the following classes at the studio:
Mondays – Strengthening Inversion Flow – 1.30pm – 2.30pm
Mondays – Yin Yoga – 2.30pm – 3.30pm
Tuesdays – Calisthenics – 3.15pm – 4.15pm