Who are we? (Sevanti's vision)
Unity is a team of passionate teachers, therapists, artists and facilitators who care deeply about making health, wellbeing and the arts accessible to all.

Unity was originally founded by managing director, Sevanti, in 1998. With more than 25 years' experience of yoga, dance and holistic treatments, Sevanti is committed to help provide the powerful life enhancing/changing benefits of yoga, dance, art, meditation, music, theatre and therapies to people of varying ages, backgrounds and ability.
Sevanti opened the Unity School of Yoga, Massage and Dance in 2002, the Unity Studio, Brighton, in 2012 and The Unity Centre, Lewes, in 2019.
As well as offering a packed timetable of classes, spa experiences, workshops and community projects, The Unity Centre is also home to Unity's global retreats and the Unity Professional Training School.
The Unity Centre in Lewes, East Sussex, is established as a CIC, a 'Community Interest Company' (as Unity Lewes CIC). This is a not-for-profit organisation which trades in the above disciplines for the benefit of the community. Any 'profit' generated is used in a 'pay it forward' structure, whereby it (and funds from grants and donations) can contribute to our specific projects for those who are considered disadvantaged or marginalised. We wish to ensure that as many people as possible are able to benefit from these services, despite any physical mobility, learning difficulty or economic challenges.
At The Unity Centre we offer concessions, low cost community classes, deals, memberships and packages as well as a lower hire rate for other registered charities. Our general pricing for those who are able to afford it, helps us to sustain the project for our diverse local and visiting community.
Sevanti's vision from the outset has been to create a centre which will be as accessible as possible to the wider community so that all may benefit in health, the arts and wellbeing. However, she also loves architecture and design and has spent many years collating items which have inspired her image of the ideal atmosphere for this work. She feels it is essential for the environment to be healing in itself, comfortable and inspiring to a range of people.
The Design
Unity design and the Turkish decor at The Unity Centre, Lewes
Having run Yoga Retreats in Turkey annually since 1998, this felt like the ideal project as the building was originally built as the Turkish Baths! Therefore, this is an exciting opportunity for Sevanti and she has loved researching and collating Turkish designed decor.
From the overall architecture plans of room layout, through to every colour, material and texture of floors, walls, furniture and furnishings, Sevanti has made each decision carefully to ensure a congruent and beautiful space.
A visit to Istanbul to collect the lights and months trawling through flea markets, has established a homely and fresh space for us all to unwind and rejuvenate in.
Practice with devotion, share with love, live your dream
The Unity Centre at The Turkish Baths – a little history
Lewes's Turkish Baths originally opened in June 1862, inspired and created by Burwood Godlee. The baths were described as 'hot air and hot and cold water baths', and were very popular with Victorian Lewesians, with at least 1,500 bathers visiting in the first three months. However alternative, larger baths opened in Brighton in 1868 and popularity started to decline. The Lewes Turkish Baths eventually closed in 1882, open for just 20 years.
In the 20th century, the iconic building was well known in Lewes as the base for 'Clothworks' and more recently as Lewes District Council's printworks. However, it lay empty for many years before the tender for the building was announced in early 2017. Initially the Council were considering a restaurant or café but more than 2,000 local people signed a petition, instigated by Jo Carter, to ensure that the building was accessible to the whole town as more of a centre for the community. Following that, the bid was opened and, after many months of detailed assessment, Unity won the bid.
Sevanti had had the vision for such a centre for more than 15 years and had been searching for the ideal location. This ground-level accessible and iconic building was the perfect venue!
Two years of securing the tender and extensive building works followed. Lewes District Council renovated the 'shell' of the building and Unity renovated the interior, including the heating, lighting, plumbing, interior walls, flooring and then a complete fit-out. This included new disabled access, by changing the highway entrance to the rear of the property to provide space for a disabled vehicle, an accessible ramp into the building, wider doors and a disabled toilet with an adult changing table and a hoist to use on site.
The Unity Centre opened on 6 September  2019.
The heart of our natural health centre is yoga. The Sanskrit word 'yoga' means to join, to live in harmony in body, mind, emotions and spirit, and to connect and relate to others with respect and love. Our Core Values sum up our ethos and mission statement.
Unity is the coming together of a community to create a supportive family-like environment for all people to learn, grow, reflect, relax and enjoy life together. Our intention is to be a welcoming, friendly, down-to-earth yet highly professional centre for yoga, wellbeing  and the arts where all are welcome.
Sevanti
Unity Founding Managing Director, teacher and practitioner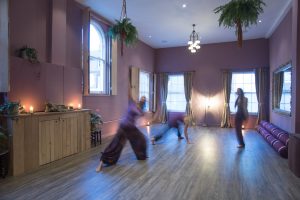 Sevanti has taught dance, yoga, massage, bodywork and healing since 1998.
With a degree in dance (having trained at the Laban Centre for Movement and Dance) and a number of diplomas in yoga, massage and various forms of bodywork and healing, Sevanti teaches globally at retreats and communities and has run her own retreats for over 20 years in various countries, annually in Turkey. She established the Unity School in 2002 and has taught her annual 'Unity Yoga Teacher Training' (IYN) and 'Unity Holistic Massage' diplomas, plus various postgraduate Diplomas including her creation of 'Unity Partner Yoga' since then, in London, Kent and Sussex. She is an IYN Yoga Elder (extensive teaching hours).
She opened The Unity Studio in Brighton in 2012 and, in 2017, secured the former Turkish Baths building in Lewes as the ultimate home for her vision: The Unity Centre opened in September 2019.
Sevanti's life long passion for dance (contemporary and ballet), as well as conscious and mindful movement, has led her to become an Open Floor teacher. This practice is one that brings together all of her passions, offering a profound opportunity for deep awareness and healing for many aspects of our personal and collective lives, and our ultimate relationship with nature on the dance floor. This embodiment modality allows us to liberate and befriend our mind, honour and express our emotions, explore a liberating range of possibility of natural movement and connect deeply with our soul. Inclusive, neutral and accessible to all, we can feel so alive, joyful and free in dance. Sevanti is passionate about leading in a way where everyone is genuinely welcome and nothing is forced, the dance floor offers an opportunity for deep inner/outer connection, self awareness and profound rest and rejuvenation.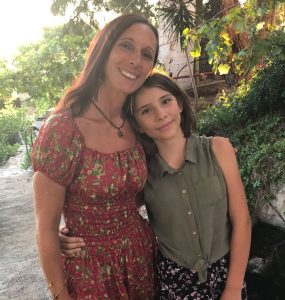 In addition, Sevanti teaches yoga regularly, including her popular Unity Yoga class on Friday mornings, she provides yoga one-to-ones, developing a personal yoga programme for each student, she offers private, one-to-one yoga and reiki (or massage) and she is available at various times for a range of holistic massage therapies .
She also teaches various children's classes, including groups of children who have been adopted or in foster care. She loves to work with all ages, particularly more vulnerable groups.
Sevanti lives in Lewes with her young daughter where they enjoy the beautiful nature of this part of the world. She continues to teach, train and travel, and loves to work with the wonderful 'Unity family' team!
Unity Centre receptionists
Tracy Handley
Jodie Moyce
Jane Orr
Sammie Venn
House manager
Katie Clammer
Karma yogis manager
Sass Pankhurst
Fundraising manager
Siri Areelertworakul / Nava Kazemi
Unity holistic spa manager
Sarah Rose Buldum
Unity studio manager
Alice Roberts
Unity School manager
Lu Margetts
Communications manager
Rob Shepherd
---
Graphic design
Tim Lambert
Mindbody consultant
Deb Kamis
Trustees (CIC directors)
Sevanti (Jo Attwood) – PSC
Thaisa Box
Anna Brook
Heather Hawthorn
Jonathan Silver
Trustees (CIC non-executive directors)
Clare Brewer
Peter Nunn
Ann O'Keife
Peter Webb
Unity Lewes CIC is a not-for-profit community interest company.