Facials
We have a range of contemporary (and back to nature) facial treatments, with all sessions bespoke to you

The facials
Here's your facials menu to choose from. Click any one for more information. All facial treatments are detailed below.
We've compiled this list for you but every facial experience is bespoke, so at the start of the session your practitioner will be very happy to discuss what you'd like, what it's for and what would best suit your unique skin type and circumstances.
All our facials and treatments are offered in a Covid-conscious manner. The wearing of face coverings will be for you and your practitioner to agree, and if you would like them to wear a face covering, particularly during close work, they will respect your wishes. There will also be the option, if you wish, of them wearing gloves to complement their frequent hand washing. The treatment environment is frequently and thoroughly cleaned.
Nb the minimum age for facials is 12 and anyone aged 12–16 must be accompanied by their legally responsible parent or guardian.
Crystal Clear Microdermabrasion
Offering flawless results without resorting to serious cosmetic procedures, Crystal Clear Microdermabrasion is a gentler way to approach and achieve a smoother, more radiant skin.
A non-surgical method of rejuvenation without chemicals or lasers, the Crystal Clear system is based on the principle of exfoliation. Different from chemical peels, it is a dry exfoliation method: highly controlled sprays of very fine crystals gently lift off the dead skin cells, unclog pores and stimulate circulation. The process eliminates dead skin cells from the top layer of the epidermis and improves the skin's ability to retain moisture. It regenerates, repairs, refines and gradually corrects blemishes and scaring, giving a more uniform appearance and firmness, leaving skin smooth and glowing.
Treatment is completed with our beautifully hydrating lifting mask that locks in moisture and provides an invisible second skin effect.
Results of the treatment are immediately evident, with a softer appearance to lines and wrinkles, while the skin is super polished and the vacuum action lifts and firms muscles.
A one-off treatment will show impressive results. However, for more intensive results, a course of treatments is recommended as various levels can be administered for more intensive results.
Treatment time: 1 hour – £75 incl products
Crystal Clear Oxygen Therapy
Ideal for skin that looks lacklustre or maybe a bit worn out, Crystal Clear Oxygen Therapy is a gentle and natural alternative to more aggressive treatments, leaving the skin looking instantly rejuvenated – lifted, firmer and plumped, with lines and wrinkles visibly reduced. The skin takes on a whole new glow.
The ageing process is associated with a drop in available oxygen in the skin cells. Crystal Clear Oxygen Therapy pumps pure oxygen via a hydrating serum to the living skin cell layer, providing it with life-repairing qualities to improve skin firmness, texture and repair. The oxygen stimulates cell regeneration for a firmer, more youthful look. It also helps spot prone skin thanks to its antibacterial effects, reducing the build up of harmful bacteria. Instant results!
The treatment is excellent for removing, smoothing and plumping out lines and wrinkles around the forehead and cheeks, and for increasing the hydration level of the skin. It's gentle enough for the delicate eye area, firming upper eyelids and reducing dark circles under the eyes.
Oxygen therapy is also very beneficial for live acne problems, helping to heal the skin quicker, so reducing the risk of scarring.
Your skin is firstly cleansed and then gently exfoliated to removed dead skin cells. Then a hydrating serum is applied to the face and neck. Oxygen is driven into your skin from a handset. This feels like cool air being gently blown across the face. The Mini-Lift Mask is applied while you're given a luxurious neck and shoulder or hand massage. The mask is then removed and a moisturiser applied.
Crystal Clear Oxygen therapy offers an immediate anti-fatigue effect whilst effectively addressing a whole host of common skin concerns. It has been described as 'the needle-free Botox alternative'.
Treatment time: 1 hour – £75 incl products
The Unity Massage and Facial
The Unity Massage and Facial is a wonderful, longer treatment for men and women with amazing results, leaving you feeling pampered and refreshed.
The treatment begins with a luxurious and relaxing half hour (approx) back massage, followed by a natural Unity Organic Facial, leaving you glowing inside and out.
The treatment will be tailored to the specific needs of your skin.
Treatment time: 1½ hours – £110 incl products
High frequency facial and scalp treatment
This invigorating but deeply relaxing massage is focused on your face and scalp, helping to prevent stubborn acne, shrink enlarged pores, reduce appearances of fine lines and wrinkles, decongest puffy eyes, rejuvenate the condition of your scalp and nourish your hair follicles for healthier hair growth and glowing skin.
 It is a unique facial and scalp treatment that uses the safe oxygenating power of high frequency electrical current. It works by enhancing blood circulation, increasing the production of collagen and elastin, eliminating toxins and acne-causing bacteria, encouraging lymphatic drainage and safely exfoliating away dead skin cells to improve the appearance of the skin.
Due to its rapid rate of oscillation, the high frequency does not cause visible muscular contractions. Instead, it works on the principle of gentle skin toning.
Treatment time: 1 hour – £75 incl products
Ultra Visage facial
Using the latest technology, the Ultra Visage facial microcurrent can shorten or relax the muscle fibres, tightening the skin to leave you looking younger and healthier looking.
It helps to lift sagging areas of the jaw, neck and face, reducing and smoothing fine lines and wrinkles.  We recommend one treatment a week for four weeks to see the full benefit and get truly amazing results .
Treatment time: 1 hour – £75 incl products
Galvanic facial
Deep cleanse the pores of your skin and degrease oily areas. Rebalance, normalise and hydrate your skin, whatever its type (from oily to dry and including sensitive), increasing blood and lymph circulation.
A galvanic facial is considered a 'non-surgical facelift'.
It gives unsurpassed anti-ageing results by smoothing out wrinkles, tightening the skin, increasing blood circulation and nourishing skin cells.
This treatment involves the use of mild electric currents to penetrate into the deepest layers of your skin and will continue working for an additional 2 days post treatment, making any products applied work 10 times better and deeper in the dermis layers of the skin.
Firstly, a specialized pre-treatment gel with a negative charge is applied to remove impurities from the deepest layer of the skin. This stimulates dull tired skin by removing hardened sebum, excess oil and dead cells. A second gel with a positive charge is then applied to tighten and firm the skin, slowing the signs of ageing at their source.
Treatment time: 1 hour – £75 incl products
The Unity Natural facial
Going back to nature, this classic and wholly organic facial thoroughly deep cleanses the skin, removing toxins and impurities caused by your everyday environment.
The Unity Natural facial is a thorough & deep cleansing treatment for the face & neck – a wonderfully hydrating, anti-stress treatment that has numerous benefits for the skin, leaving you fresh and rejuvenated.
It is commonly a monthly routine for women in Europe and considered the quintessential treatment in good skin care. The Unity Natural facial will leave you feeling refreshed and incredible!
Suitable during pregnancy.
Treatment time: 1 hour – £75 incl products
About Yolanda Aldridge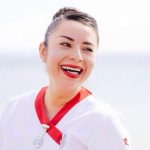 Yolanda is originally from El Salvador. She is fully qualified in a wide range of massage treatments including level 4 in sport massage therapy, LA hot stone, hot bamboo, lomi-lomi, Swedish, Ayurvedic, and pregnancy massage as well as facial and facial electro therapy.
Yolanda is a very warm and experienced therapist. Her wealth of knowledge in massage comes from her home country as well as her time in Sweden, where she lived for many years. Yolanda loves working with people and has a natural insight in understanding a persons individual needs.
All her qualifications are awarded and successfully attained to the national UK standards.