Massage therapies and treatments
We offer a wide range of holistic massages and treatments, including oil, hot stone, Thai, reflexology, Indian head massage & aromatherapy, plus traditional reiki, reiki-with-crystal therapy, acupuncture, talking therapies and many more.

Taking care of you
Your time with one of our lovely Unity therapists, in our luxurious Sanctuary room, will start with a welcoming, cleansing foot soak and end in blissful relaxation with delicious, complementary mint tea. During your foot soak you will have the opportunity to discuss your needs and the bespoke treatments available, before settling down to enjoy the holistic experience.
Please be aware your treatment time includes consultation and aftercare.
We also host a number of excellent guest therapists, among them a herbalist, a holistic aromatherapist and a reiki practitioner. These diverse sessions take place in our light and inspiring Cabin.
Your choices
Here's our range of therapies and treatments in detail. If you'd like to know more about individual therapists and practitioners, please visit our therapists page.
Therapies may vary slightly from time to time, subject to availability, but generally they include the following:
All our therapies and treatments are offered in a Covid-conscious manner. The wearing of face coverings will be for you and your therapist to agree, and if you would like your therapist to wear a face covering, particularly during close work, they will respect your wishes. There will also be the option, if you wish, of them wearing gloves to complement their frequent hand washing. The therapy environment is frequently and thoroughly cleaned.
Nb the minimum age for all massages, therapies and treatments is 12. Anyone under the age 18 must be accompanied by their legally responsible parent or guardian.
Know what you're looking for?
Choose a treatment (appointment type) and, optionally, a therapist (instructor) and maybe a date, then click search.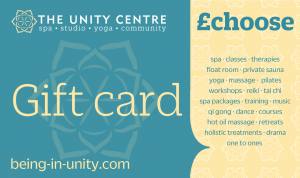 Don't know what to choose?
If you're buying for someone else and don't know what to choose, why not buy a gift card?
Holistic Oil Massage
Holistic Massage works on every level of the individual: Physical, Emotional, Mental and Spiritual. A thorough consultation initiates a sacred journey of Massage and Energy work. Practitioners can work at the depth required by the client, with a range of oil massage skills and stretches.
Deep Tissue Massage
Deep tissue massage releases chronic muscle tension and helps to treat muscle pain and stiffness. A lovely deep-relief remedy to free you from tension and increase flexibility.
Unity Holistic Ritual Massage
Holistic Massage techniques combined with Deep tissue Indonesian methods and Thai-like stretches and acupressure application. Emotion and memories are stored within our muscles and tissues; massage helps clear unwanted energies and traumas, allowing us to move forward with pure, fresh energy in this present moment.
Appropriate essential oils are applied with a scattering of rose petals and the use of Healing and Crystal placement. Sound therapy in the form of Tibetan bowls, quartz crystal bowls and cymbals combined with the burning of sage and the use of aura soma to fully cleanse and soothe the body's energies. An awakening of the senses and respect for all levels of ones energy system.
Clinical Massage
Clinical massage combines and applies a range of cutting edge Eastern and Western techniques, including deep effleurage, soft tissue release, trigger point therapy, myofascial release, stretching and deep tissue work. It is similar to sports and remedial massage, but we always work gently and effectively rather than creating more pain and stress in the body.
It is specially useful for the relief of chronic pain due to injury, repetitive strain, or for any chronic conditions.
LaStone Therapeutic Massage
LaStone Therapy is a deeply therapeutic and rejuvenating massage treatment, where smooth, warm basalt stones are used to heat areas of tension, for example the lower back or shoulders. These stones are also used on the chakras, and they are held in the hands whilst massaging the body with holistic oil and acupressure techniques. The stones carry a healing energy, and can be used with colder marble stones to offer more of a detoxifying session.
This session also includes ritual practice, healing, cleansing, crystals and deep stretches. Deeply effective, stress releasing, tension dissolving and invigorating too… Bliss!
Hot Stone Massage
Hot Stone is a deeply therapeutic massage treatment, where smooth, warm basalt stones of varying sizes are used to heat areas of tension, for example the lower back or shoulders. The direct heat from the stones melts tension from muscles promoting pain relief and creating comfort, relaxation, warmth and spiritual well-being.
The heat penetrates the muscles, stimulating circulation and the flow of oxygen and nutrients, thus helping the body to detoxify and heal.
Myofascial Massage
A safe and hands-on specialised massage technique involving sustained pressure on myofascial connective tissue. It is used for the effective treatment and rehabilitation of soft tissue and facial aches and pains.
Indian Head Massage
A beautifully traditional practice entailing a relaxing acupressure massage on the head, face, neck and shoulders.
Aromatherapy
A holistic healing treatment using natural plant extracts to promote health and well-being. Using aromatic essential oils to improve the health of the mind, body and spirit.
Reflexology
Reflexology is an ancient art of foot massage from China involving using pressure on different parts of the feet. Each part of the foot corresponds to a different part of the body. A very relaxing massage designed to restore the delicate balance of the body and its functions.
Pregnancy Massage
Soothing and tension releasing techniques are used to support the pregnant woman in the second and third trimesters. Specific positions (e.g. side laying) assist in establishing comfort, particularly in the later stages of pregnancy.
Fertility Massage
A gentle form of massage to the abdominal and lower back area to help increase fertility and reproductive health and bring balance and harmony to the reproductive system.
Thai Massage
Comfortable pressure is applied along the Sen lines of the body to release trapped, stagnant energy and ease muscular tension. What follows feels to some like a passive yoga session; the receiver is supported through a range of thorough stretches to enhance flexibility and access an incredibly deep sense of relaxation. Suitable for all ranges of flexibility, the body is respected and worked according to its unique capacities.
Including Advanced Thai Medical Acupressure Therapy for specific ailments.
Ayurvedic massage
An Ayurvedic treatment involves the use of warm herbal infused massage oils and consists of establishing an individual's constitution and the nature of any imbalance. The right blend of herb-infused oil can then be applied to the body using special Ayurvedic massage techniques, to return the individual's body to a state of healthy balance.
Ayurveda is the ancient vedic system of self-healing body, mind and soul, arising from the philosophy and practice of yoga.
Hot Bamboo massage
Originating in Asia, this wonderful therapy is great if you like deep tissue work. It will leave you feeling relaxed and energised, and with a sense that your muscles have been stretched, warmed and elongated.
Hot Bamboo massage uses solid bamboo sticks of different lengths and diameters to massage the body. The sticks are gently warmed and applied to give deep, long massage strokes to break down tension and to stretch tight muscles.
Lomi Lomi
Lomi Lomi massage uses long, continuous and rhythmic strokes, concentrating on encouraging the flow of energy through the body. It is famous for transitioning seamlessly from one area of the body to the next, in wave like motions.
This gentle and relaxing massage will help to release anxiety, fear, and other negative emotions.
It also addresses physical pains and ailments such as muscle soreness and stiff joints, and even helps relieve pain. It can also be beneficial with symptoms of arthritis and fibromyalgia.
Traditional Reiki
Reiki means 'Universal Life Energy'. It has the highest and purest frequency of energy to recenter and balance us. It feeds our energy systems so that our physical, mental, emotional and spiritual bodies work with efficiency and harmony. It originated in Tibet over 2500 years ago and was rediscovered by Dr Mikao Usui in the late 1800s.
As a healing channel, Reiki to flows through the Practitioner to the Receiver as pure, warm, nourishing energy. Reiki flows through clothing; there is a feeling of deep relaxation, lightness and a strong sense of support, protection and trust. All of the body's systems will receive this wonderful energy and stronger will-power, clarity, sense of purpose and contentment will be made available. Reiki is not a belief-system, all that is required is an open mind and a will to accept the healing ability within.
Reiki & Crystal Therapy
Precious gemstones are chosen for the receiver's needs and are placed around the body and on the chakra points. Reiki & Crystal healing are combined, to invite peace/balance/inspiration, or whatever is needed at the time. Crystal & Tibetan singing bowls are also used, with the cleansing intention of sage and aura-soma to further deepen the healing journey.
Craniosacral Therapy (CST)
People come for Craniosacral Therapy (CST) as part of their recovery from trauma, injury or stress, or to support their general wellbeing, health and sleep, and to reconnect with the body's ability to heal.
Biodynamic Craniosacral Therapy is a gentle but profound hands-on therapy; it is carried out fully clothed on a massage couch or in a seated position if necessary. It is suitable for everyone from new born babies to the elderly.
CST works with the whole body, musculoskeletal system, nervous system, cardiovascular system, immune system, organs, connective tissue, fluids and the energy systems of the body. CST can help release trauma in the body, physical and emotional, and re-establish and maintain optimal health.
People choose CST to help with a vast range of symptoms including headaches, migraines, insomnia, back and neck pain, stress, anxiety, fatigue, long Covid, post surgery and cancer treatment.
Acupuncture and tuina medical massage
Acupuncture is a tried and tested, sophisticated system of medicine. The Chinese and other eastern cultures have been using acupuncture to restore, promote and maintain good health for thousands of years. Nowadays, more and more people are finding that this long-established therapy can offer an effective treatment for a wide range of health conditions.
What can acupuncture do for me?
Acupuncture can be beneficial for a range of illnesses and symptoms, from clearly defined complaints, such as headaches, migraine, back ache, asthma, arthritis, IBS, cystitis and period pain, through to more general feelings of ill health, such as nausea, tiredness, insomnia or low mood.
Conditions commonly treated fall into the following categories of disorder: eye, ear, nose and throat; circulatory; gastrointestinal; gynaecological; genito-urinary; immune; musculo-skeletal; neurological; respiratory; emotional and psychological; addiction.
Acupuncture aims to address the root cause of a condition and not just the symptoms alone.  This approach can lead to a more permanent resolution of problems.
What does it feel like?
Acupuncture needles are much finer than needles used for injections and blood tests. When the needle is inserted, the sensation is often described as a tingling or dull ache, which lasts for only a second or two.
How many sessions will I need?
Frequency and length of treatment depends on your individual condition.  Most people start coming for acupuncture weekly and, as treatment progresses, the interval between treatments lengthens to fortnightly and then monthly or less frequent if ongoing treatment is required.
Some patients may only need a few treatments while others need treatment over several months or long term.  As a general rule, the longer you have had a complaint, the longer it will take to improve
Psychology coaching and holistic psychology coaching
Holistic psychology coaching combines psychology, counselling and life coaching with meditation and mind, body and soul practices.
"I use my psychology coaching & holistic toolkit to transform and heal women. Holding space for deep self awareness, creating conditions to explore painful conditions as well as creating future-focused growth, I also enjoy using breath work, meditation and energy healing techniques to help manage anxiety and overwhelm, and to create long lasting transformation.
"I can help you to learn how to hold yourself with loving kindness, start to let go of what no longer serves you well, learn how to start healing and access your inner wisdom.
"It's my mission to empower women like you to heal, grow and create a healthy mindset and deep self-awareness, acceptance and self love that will take your life to the next level, accessing your mind, body and soul's innate wisdom."