Gift cards
Our gift cards are the perfect gift for someone you appreciate...
The gift of wellbeing, relaxation, therapy and rejuvenation.

Gift cards for spa days, classes and experiences
Gift cards for Unity spa days, half days and other spa experiences, as well as for Unity classes and more, are a wonderful way to show someone you care.
On this page we have
And read on to see how you can have your gift beautifully gift-packaged for you to give.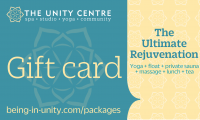 The Ultimate Rejuvenation
Luxury spa and yoga day
(full day)
See here for details
£235 for two / £140 for one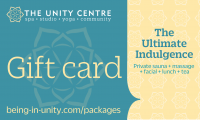 The Ultimate Indulgence
Sheer holistic pampering
(half day)
See here for details
£285 for two/£145 for one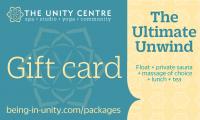 The Ultimate Unwind
A deeply relaxing retreat
(half day)
See here for details
£215 for two/£130 for one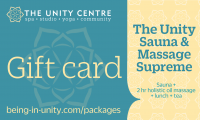 Sauna & Massage Supreme
A deeply holistic experience
(allow 3½+ hours)
See here for details
£205 for two/£108 for one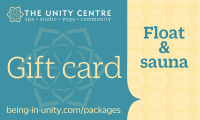 Float & sauna duo
A perfect pair
See here for details
£80 for two/£60 for one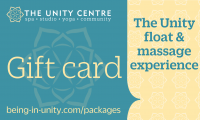 Float & massage
A Unity experience
See here for details
£182 for two/£99 for one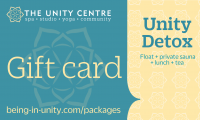 The Unity Detox
A detoxifying immersion
See here for details
£145 for two/£79 for one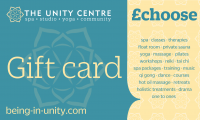 Unity Membership
Unlimited Unity classes & 10% off floats, saunas & massages make 3 months Unity membership great value.
Buy gift card for £112.50
You can also buy gift vouchers in person at The Unity Centre. If you visit in December, we'll beautifully gift-package your voucher to make your giving a truly lovely and memorable occasion.
And don't forget these
Gift vouchers from £10 – £200.
Buy any gift card(s) to cover the cost – or part of the cost – of spa packages or any Unity classes, workshops, floats, sauna sessions, holistic massages, facials or other Unity treatments.
Or choose an amount yourself
You might want buy a gift for a specific amount, maybe a £12 yoga class or Sevanti's £78 private yoga and massage/reiki.
Maybe you're going halves with someone on the cost of a one hour massage (£32.50 each), a float and massage (£49.50 each) or a package like The Ultimate Rejuvenation spa day for two (£117.50 each).
Or it could be any gift that doesn't fit in with the set-price cards (or a combination of cards) we offer.
Whatever your reason, whatever your amount, choosing your own means we have a gift card that will work for you.
Please note
Gift cards cannot be used for third party services, retreats or products sold in the Centre and cannot be used in conjunction with other discounts or offers unless expressly stated within those offers.
Gift cards are non-refundable. If the value of a gift card exceeds the purchase made using it, the balance will be added to the card recipient's account for future use within the timescale specified.