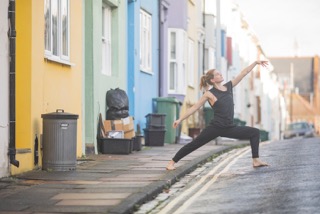 CLASS(ES) TAUGHT & A BRIEF EXPLANATION OF WHAT YOU TEACH:
I teach the Wednesday evening "Vinyasa Flow into Restorative Yoga" class. This is one of my favourite classes to teach, as it includes a wide spectrum of yoga. In this 90 min class, we are flowing, twisting and rinsing the week out of the body, as well as exploring Pranayama (breathing exercise), meditation and yogic philosophy. Every class ends in a long hold restorative posture or in a guided Yoga Nidra meditation. Balancing the Yin to the Yang.
HOW LONG HAVE YOU BEEN TEACHING AND HOW DID YOU GET STARTED?:
I started teaching 2 years ago when I started my yoga teacher training in London. Teaching is something which feels very natural to me. I have been practicing yoga for 12 years now and I remember the light bulb moment when I realised I actually can make my passion into my job. So here I am.
WHAT DO YOU PARTICULARLY LOVE ABOUT THE FORM OF YOGA THAT YOU TEACH AND HOW HAS YOUR DISCIPLINE BENEFITED YOU PERSONALLY?:
I love the free and intuitive movements in vinyasa yoga, it feels like a dance. I love the feeling when my mind, my breath and body fuse into one and I feel totally in the present moment. Flowing in and out of poses, finding range in my movement but also my edge.
Yoga has taught me so much in my life. It gave me stamina, physically, but even more so mentally. Yoga teaches me compassion daily, helping me listen to my heart as well as giving me a kick up my bum when needed. My experience of Yoga leaves me with daily surprises as its forever changing. Sometimes we are flowing through the most complicated sequences without any effort and other days we just struggle and sitting still seems to be the hardest challenge there is. Learning, noticing and accepting what is, is yoga for me.
WHAT/WHO INSPIRES YOU?:
My teachers Naomi Absalom and Judith Hanson Laseter. Life is a big inspiration for me, with all its challenges, surprises, and changes. Music, books, stories, dogs, cats and the ocean. There is inspiration everywhere in the world to me and I need this inspiration for my teaching.
WHAT CAN SOMEONE EXPECT FROM YOUR CLASS AND WHAT MIGHT THEY TAKE AWAY WITH THEM ?:
You can expect a fun, challenging, whole body balanced sequence, which can be tough sometimes, but always ends in the sweetest rest. Great music, laughter and moments of stillness. You may take new breathing techniques with you, new movements and you will deepen your body-mind-awareness. You will leave the class recharged, relaxed and peaceful.
WHAT DO YOU LIKE DOING WHEN YOU'RE NOT DOING YOGA?
I started bouldering this year and I totally fell in love with it. It perfectly counterbalances my yoga practice and challenges me completely. I go for walks by the sea. I love when the wind is blowing through your hair and the waves are wild and the sky is moody.
WHAT'S YOUR FAVOURITE INSPIRING QUOTE?:
"When we bring our mind into our body, the body becomes mindful and the mind becomes embodied."
-Donna Farhi
Sandra teaches:
Vinyasa Flow into Restorative Yoga – Wednesdays – 6:30pm-8pm
Facebook: @Sundrayogabrighton