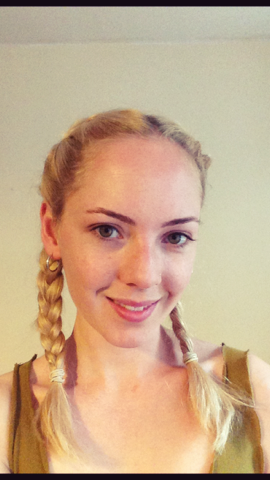 NAME: Sophie Higgins
CLASS(ES) TAUGHT & A BRIEF EXPLANATION OF WHAT YOU TEACH: Vinyasa Flow, Wednesdays, 12:30-1:30 (starting from Wednesday 16th May). I teach alignment based vinyasa flow classes, with a slow and strong emphasis.
HOW LONG HAVE YOU BEEN TEACHING AND HOW DID YOU GET STARTED?: I have been teaching for 5 years, and it all started with a desire to leave the City desk job, and bring some much needed balance back into my life.
WHAT DO YOU PARTICULARLY LOVE ABOUT THE FORM OF YOGA THAT YOU TEACH AND HOW HAS YOUR DISCIPLINE BENEFITED YOU PERSONALLY?: I love the creativity and uniqueness that you can weave into a vinyasa flow class. This has allowed me to really open up and express myself freely, not only as a teacher, but also as an individual. It is my hope that this form of creativity also inspires students to express themselves freely as well.
WHAT/WHO INSPIRES YOU?: Everything and anything can and does inspire me. At the moment I am finding nature and the seasons particularly inspiring. My students, and my continual learning as a student, also inspire me.
WHAT CAN SOMEONE EXPECT FROM YOUR CLASS AND WHAT MIGHT THEY TAKE AWAY WITH THEM ?: Expect a grounding and dynamic practice, and expect to work hard, but in a nurturing, safe, and supportive environment. Students might take away with them a little nugget of anatomy information, and a sense of connection to, and perhaps gratitude for, the physical body. Also expect a catchy playlist in every class!
WHAT DO YOU LIKE DOING WHEN YOU'RE NOT DOING YOGA? I'm also a nutritional therapist, so when I'm not doing yoga I usually have my head buried in a nutrition book, or I might be cooking up a nutritious meal with my partner.
WHAT'S YOUR FAVOURITE INSPIRING QUOTE?: "The wound is the place where the light enters you." Rumi
Sophie teaches Vinyasa Flow on Wednesdays from 12:30 – 1:30pm (starting from Wednesday 16th May).
FB: @sophiehigginsnutrition
Insta: sophie_higgins_nutrition