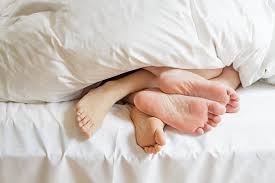 Remember the first time you walked in to yoga class? The uncertainty, the strange smell, the uncomfortableness of the postures, other people looking like they knew what they were doing and effortlessly moving from one posture to another. Then trying to keep up with what the teacher was doing and then maybe the class included your first Om or meditation? And the busy mind telling you, you weren't doing it right and a bit of embarrassment or shyness.
And yet there was something that made you go back.
And then each class, you relaxed a bit more, began to notice new sensations, enjoyed your breath and could use your breathing to enhance a posture or quieten your mind. And gradually you noticed your movement smoothing and your Om become more confident. And as the time went on the benefits of yoga became more apparent in your life and now you love it.
In many ways once we begin to see pleasure and sex as a practice like yoga we can begin to approach it with a whole new level of interest. Admitting we're not sure how to do it and need some guidance, is where it can begin. After all, none of us have learned how to do this. And neither have our partners and there's not many Studios around to sign up for sexuality classes.
However, just like yoga, focus on breath, movement and sound, has parallels in pleasure. We can begin to slow down and notice more. With focus on the breath we can learn how to use it to heighten excitement or to find peace. Moving our bodies allows us to let our energy build and flow. And we can get more confident about touch and changing positions and activities. And once we begin to use sound and our voice we can communicate more about what we're feeling and wanting, which can build connection with a partner.
So, just like yoga, its sometimes taking the first brave step that can lead us into a whole new world of awareness. And once we've taken that step, a world of possibility, permission, expansion and pleasure await. Mindfulness and intention matter as much in the bedroom as the yoga class and we invite you to explore with an open mind.
Ali Grace will be teaching on her and Jem Ayres training 'Women's Pleasure and Touch' – 10th/11th March & 28th/29th April. More info on the Workshops page here.